Topcast Forms Distribution Partnership with AmSafe Bridport to Offer Secure Air Cargo Logistics
Press Release
Hong Kong
01 April 2021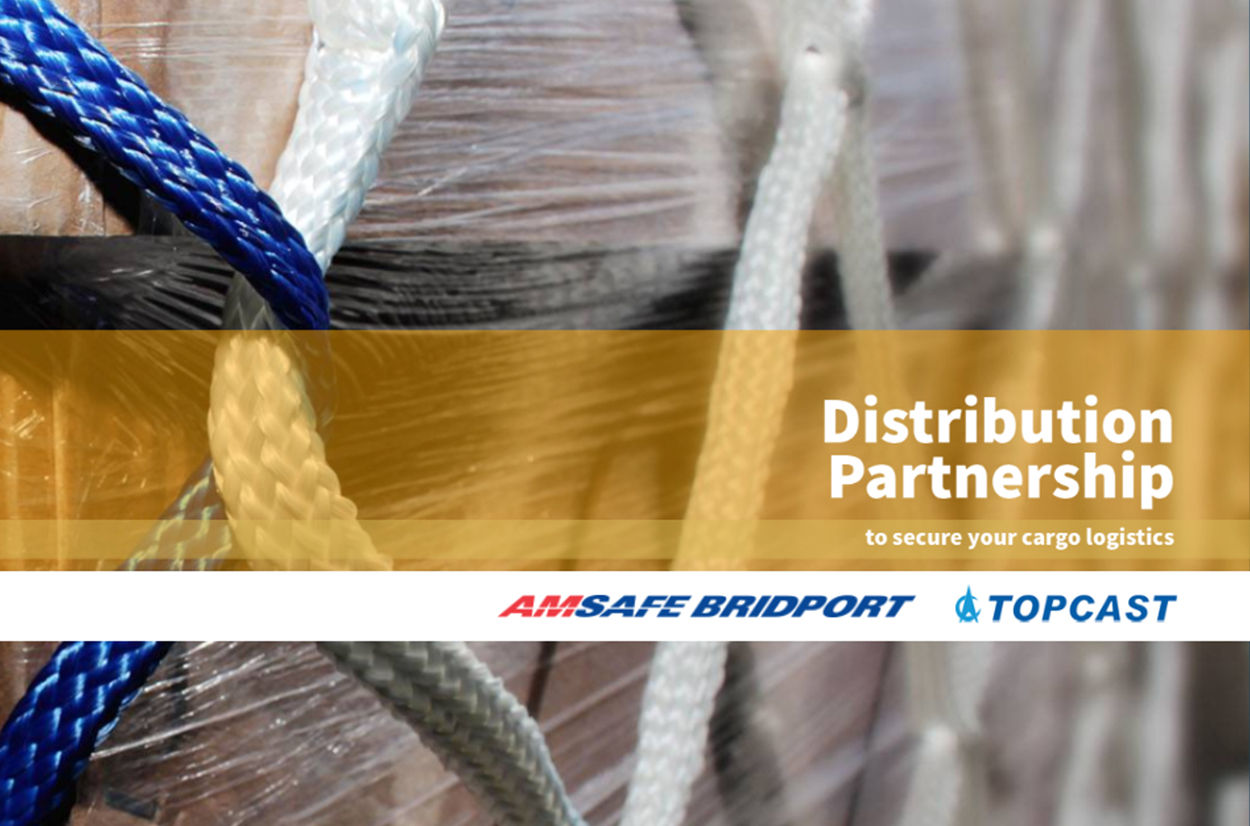 Hong Kong SAR, April 1, 2021 – Topcast is pleased to announce a new distributor agreement with AmSafe Bridport for its commercial aftermarket parts in Asia Pacific region. This partnership will fortify our product portfolio to provide approved and certified cargo restraints and protection systems for commercial aviation. 
With the aim of a more comprehensive aftermarket spares catalogue, this partnership will lead the way for a wide range of aftermarket products, including, belly-hold and bulk cargo nets, barrier nets and cargo liner panels. This strategic partnership is well equipped to meet the demands of all of the major aircraft OEMs, including Airbus, Boeing, Sukhoi, and Embraer. 
"Partnership with AmSafe Bridport is a key mileage for our cargo product portfolio. Together we trust our customers can enjoy more choices to move, lift, deliver, protect or restrain their cargo services," said Craig Winfrey, Vice President, Corporate Strategy and Business Development of Topcast. "We commit to deliver value-added services to the market and we are honoured to support the current strong demand in air cargo in the midst of pandemic." 
Joe Ashton, Vice President, Sales and Marketing at AmSafe Bridport said, "We are excited to enter this new partnership, with a prime objective of achieving a closer working relationship with our customers. As a business, we constantly strive to increase service levels and customer satisfaction, which was one of the key motivators behind this new structure. AmSafe Bridport is working on some interesting new product innovations and services, which we are keen for our new distribution network to bring to the global market." 
AmSafe Bridport boasts for its 40 years of aftermarket experience, and with its customer service focus, this new strategic partnership can promote mutual benefits to build a more comprehensive collaboration opportunity in the aftermarket spares arena. 
About Topcast 
Founded in 1991 and headquartered in Hong Kong, Topcast is a world-leading aircraft parts distributor and MRO service provider. We offer exceptional OEM and aftermarket aircraft parts, equipment and repair services for a broad range of aircraft platforms. With our strong global network, we have 22 worldwide offices across Greater China, Asia-Pacific, Americas, Europe, the Middle East, and Africa regions, we connect suppliers with customers in all segments across over 90 countries. Visit us at www.Topcast.com.